Wire & thin plate Forming Machine
TOSCO F2
<<<< New >>>>
Features
TOSCO F2 is designed for forming small parts with wire and thin plate. The former model TOSCO F1 has been popular for more than 30 years with 300 units of total supply record. F2 is the true successor of F1 and it assures the quality forming.
Against the requests for the precision forming of small wire diameter or thin plate thickness, it has been developed for the users mainly in electronics and automobile industry and more.

High precision and reliability
The precision products such as smart phone, camera, DVD/BR recorder are increasingly requiring high precision and reliability on top of the needs of parts down-sizing and cost-lowering. TOSCO F2 is designed for such environments.
The machine size is very small (LxWxH, 850 X 570 X 1500 mm), but it is capable of machining 1.2 mm diameter piano wire and 2.5 mm diameter steel wire. Accuracy of slide's clearance is kept at below 6/1000 mm. Material feed also can be done in high precision.
Machining slides are 7 on the front surface and 2 front/rear directions. They are all made from special steel, and are hardened, ground and lapped. Another 1 spare machining slide is prepared for chamfering or drilling at the previous process.
Slide holders made from special steel are bored at first. And they are hardened, ground and lapped to realize high precision and rigidity.
Gears are high frequency hardened or gear-ground. All the cam axes are made from special steel, and they are hardened, ground to keep high rigidity. Its accuracy of outside diameter is below 5/1000 mm.
User friendly operation
As TOSCO F2 is made at operator's standpoint with unique idea, it has become a very handy forming machine to use.
In order to ease the setting-up, this machine allows us to access from the front face. Repair or readjustment of dies can be done easily.
The machine cover is one-touch slide type. It can be easily shifted to rear side so that you can do an adjustment quickly.
The number of components and parts are minimized so that maintenance and parts replacement can be easy.
Problems in mutual arrangement of dies for wire forming have become lessened to allow for a swift adjustment.
Slides are fixed so that the reproductability of die installation is kept high. Quick set-up is assured.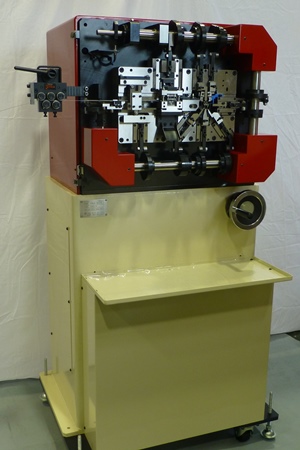 | | |
| --- | --- |
| | |
| TOSCO F2 Machining part enlarged | Machining samples |
Specifications
| | |
| --- | --- |
| Model | TOSCO F2 |
| Material Max. diameter (mm) | 1.2 for piano wire, 2.5 for steel wire |
| Max. feed length (mm) | 50 (standard), 100 (option) |
| Max. slide stroke (mm) | 15 |
| Production amount | 30 to 500 pieces/min. |
| Motor | 750W, AC200V, 3ph, 50/60Hz |
| Dimensions (LxWxH, mm) | 850 X 570 X 1500 |
| Mass (kg) | 200 |
* Machine's dimensions and mass vary according to the specifications.
* Specifications are subject to change without prior notice.